Using an iPad or Tablet To Effectively Close Deals
When closing deals, sales reps often feel like they're playing tug-of-war. You can pitch your product all day, but the buyer starts resisting again when you ask for a signature in exchange for an offer. Unless you're pitching used car sales associates, there's little to no trust in this relationship. 
So how do you close those deals? Most sales reps will tell you that confidence is key. But what works best as an individual is adopting different techniques and strategies to close deals. Some good salespeople use iPad or Tablet to close deals effectively. This is easy and fast. Let us learn how to use these tools like a pro. 
Ways to Effectively Close Deals Using an iPad or Tablet
Always be closing
Eyeball the close. No matter what you're doing or how hard you're selling, always be closing. You may feel like it's an annoying sales strategy, but it works. Repetition is key when closing, and this is especially important when you're pitching an iPad or Tablet as the  as a business tool.
Set up tablets at POS conferences
Many businesses are increasingly utilizing tablets as point-of-sale (POS) devices. 
They're not simply useful for pop-up stores, food trucks, and market vendors; brick-and-mortar establishments may also utilize them to give customers an automatic system and relieve sales employees of their responsibilities.
To reduce space around customer support areas, utilize tablets instead of tills, or encourage consumers to use self-service kiosks. Set up tablets in the store as a brochure, so customers can look for what they're looking for and get bargains.
Video conferencing
If you're closing more deals using an iPad in the sales process, have you ever considered using it in the sales presentation? Video conferencing to pitch your product and show its features and benefits will seal the deal. It's important to note that you can't use the built-in camera on the iPad itself. You'll need a third-party camera like Logitech C922 or Blue SIV.
Dining together
If you're closing deals at any event, consider using the iPad to help facilitate and record the conversation. This can be very helpful if you simultaneously close a deal with multiple stakeholders.
iPad presentations
If you're closing a deal, do you ever present any type of proposal or contract to your clients? If the answer is yes, it's worth considering having the client sign the document directly on your iPad. You can use a PDF workflow tool like Scanbot to scan in documents, SignNow, or Adobe Sign to collect signatures, or you can use DocuSign to sign and track the entire process digitally.
iPad specifications d
Do you ever feel like you're losing the specs and features of a discussion with your clients? If so, consider using the iPad to help facilitate the discussion and ensure that you keep the conversation on track.
Show off your collateral 
Tablets can also be handy in meetings to display sales collateral, such as brochures or documents that complement your sales presentation. Instead of printing and hauling about a stack of paperwork, simply pack your tablet.
This has the added advantage of making you appear more professional and giving you instant access to certain other documents if you need them throughout your presentation.
During an open house, a broker may utilize an iPad to show potential buyers multiple views of the residence and surrounding amenities and then use their realty CRM to note down after each viewing. While visiting an industrial client or prospect, a sales engineer could use a tablet to display their products' schematics and technical aspects.
Why Should You Use iPad or Tablet to Close Deals?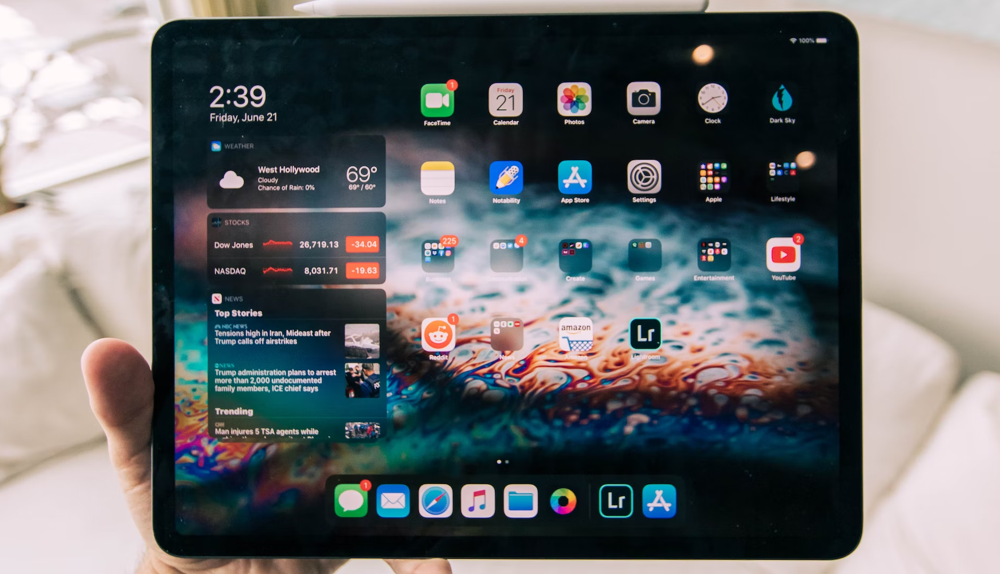 There are two primary advantages to providing tablets to your sales team:
Increasing sales productivity
It's a proven truth that tablets boost sales rep productivity. How? By permitting them to use the opportunity they have, new salespeople may get up and running faster, and the sales cycle is reduced.
When reps spend less time on administrative activities and looking for the correct product information, they have more time to do what salespeople do best: sell. With a complete mobile office at their disposal, reps' 15-minute leisure between visits may be used to complete administrative work or even – gasp! – mobile education from the field. Yes, that is all feasible.
When you provide tablets with product information, PowerPoint presentations, sales training, and other tools, your new employees will have all they need to learn quickly and acquire confidence by becoming productive sooner.
Of course, the ever-expanding variety of sales-specific apps for tablets, such as CRMs, lead management, guided pitching, proposals, digital signatures, and so on, shortens the sales cycle, allowing salespeople to close simplified deals in record time.
Improving customer experience
Tablets transformed the purchase experience in 2011, the "Year of the Tablet." Were you impressed when the store employee swiped your credit or debit card from his iPad during your initial Apple Store purchase? Remember how much you were impressed? That emotion, yes. That is something your organization can use to wow clients and prospects.
The novelty value of using iPads for sales draws both salespeople and customers, setting the scene for exactly what you want during a sales discussion: reps and clients standing shoulder-to-shoulder and getting excited at the items you sell.
Reps that enter into a sales meeting with a tablet acquire instant credibility. They are at the cutting edge of technology. Professional. In the loop. Customers understand that with the touch of a finger, they will acquire access to massive amounts of data.
Customers demand a consistent experience. They will not accept or appreciate a rival who is not equipped with the latest up-to-date instruments of their trade, fearing that the business behind that rep's services is not future-focused.
Conclusion
These five ways are a great start if you've ever wondered about the best ways to close more deals using an iPad. It's worth noting that these are intended for B2B sales reps. However, B2C sales reps can also use these tips to close more deals.