Top Sales Blogs To Follow With Amazing Insights
Have you ever wondered what the difference is between you and the top 1% of sales professionals? One thing is for sure – there are many commonalities. They are in the same race as you are in meeting sales targets and are faced with the challenges of prospecting. So, how are they evolving so fast, and how is closing deals like a child's play for them?
Salespeople who consistently excel are also dedicated learners. But they are just the 1% of the total salesforce.
If you aspire to be in that "1% group," reading and following sales blogs is a step in the right direction. These sales blogs not only keep you informed about industry developments but also offer insights from successful sales professionals. Below, we've compiled a list of 20 top sales blogs where you will learn tons of things from and which can help you evolve too. It doesn't matter if you are a small business or a large enterprise. These blogs will help you in achieving higher sales and also give you new ideas to excel in your career.
List Of Top 20 Best Sales Blogs To Follow In 2023
1.  HubSpot Sales Blog
Ideal For: Sales professionals, Executives, Managers and Entrepreneurs
Focus Areas: Entrepreneurship, Sales Strategy, and Leadership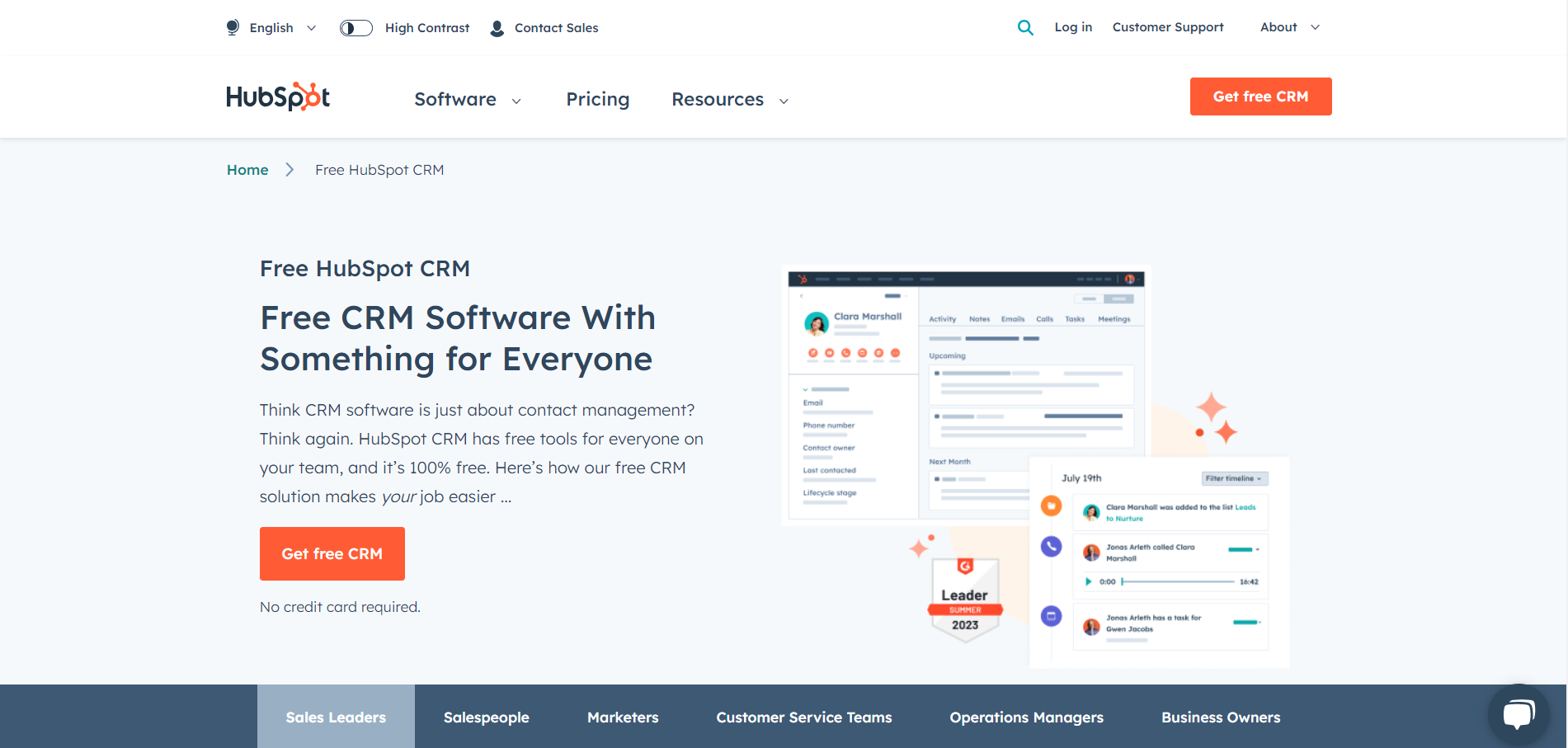 This sales blog provides valuable insights and guidance to its readers. Whether you're in search of tips on crafting the perfect email subject line that leads to successful closures or seeking expertise in negotiation, you'll find all the advice necessary not only to meet but exceed your sales targets.
The blog features contributions from some of the most renowned names in the sales industry, including Marc Wayshack, Jonathan Farrington, Mike Wienberg, Tony Alessandra, and more.
2. Gong.io 
Ideal For: Sales Representatives
Focus Areas: AI, Sales Management, and Selling Skills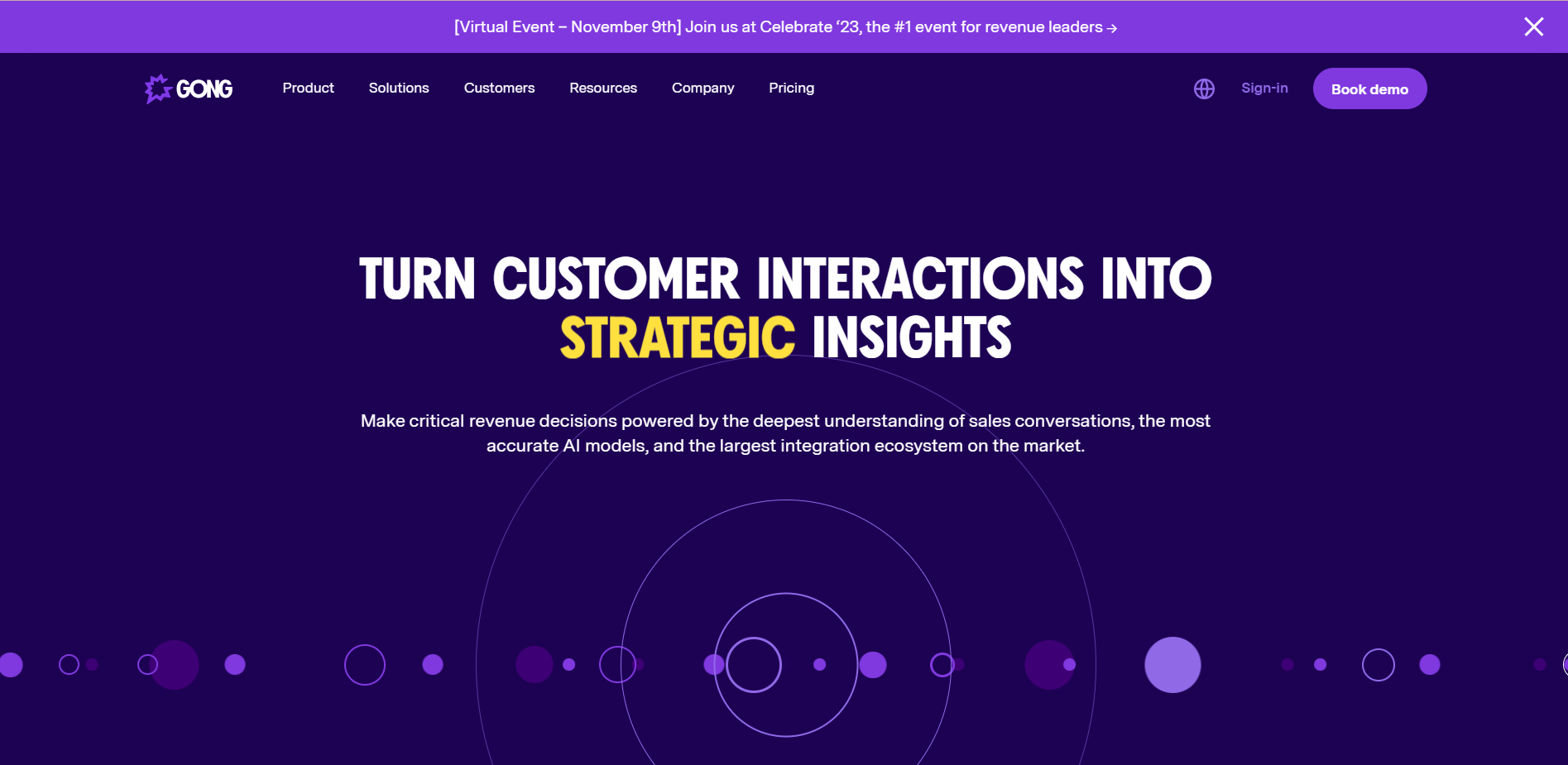 Gong.io is a place brimming with valuable information, perspectives, and data-driven analysis of the world's largest database of AI-driven sales conversations. The Gong blog delivers insights gleaned from extensive analysis of hundreds of thousands of recorded and transcribed AI-driven sales conversations.
It provides a data-driven understanding of what distinguishes successful salespeople, offering concrete insights based on first-party, primary data sourced directly from real customer interactions. Furthermore, the blog offers clear and actionable articles covering a wide array of sales strategies. If you're a sales leader seeking proven advice on building a successful sales team, be sure not to miss Gong's "The Edge," a newsletter for regular updates.
3. CloserIQ Blog
Ideal For: Recruiters and Managers
Focus Areas: Hiring and coaching trends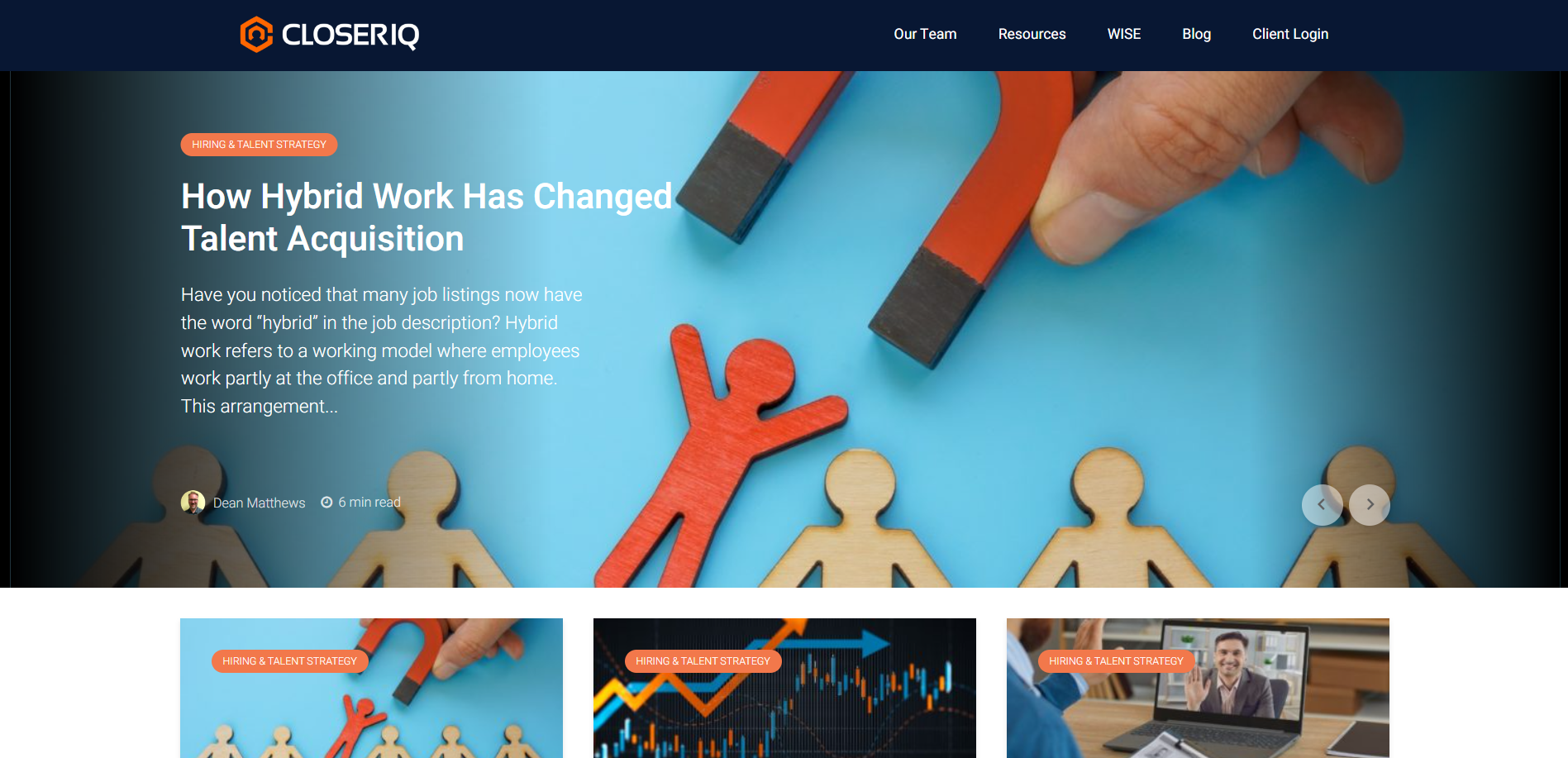 CloserIQ's blog taps into a network of over 60,000 experienced sales leaders who generously share their tested sales strategies. Positioned as a specialized sales recruitment firm, CloserIQ's blog is a valuable resource tailored to the needs of sales managers and recruiters. Its content zeroes in on the critical aspects of hiring top-tier sales talent and optimizing sales operations.
4. Sales Hacker (GTMnow)
Ideal For: Sales Representatives (B2B), Executives and Managers
Focus Areas: Sales Tools, Sales Assistance, and Lead Generation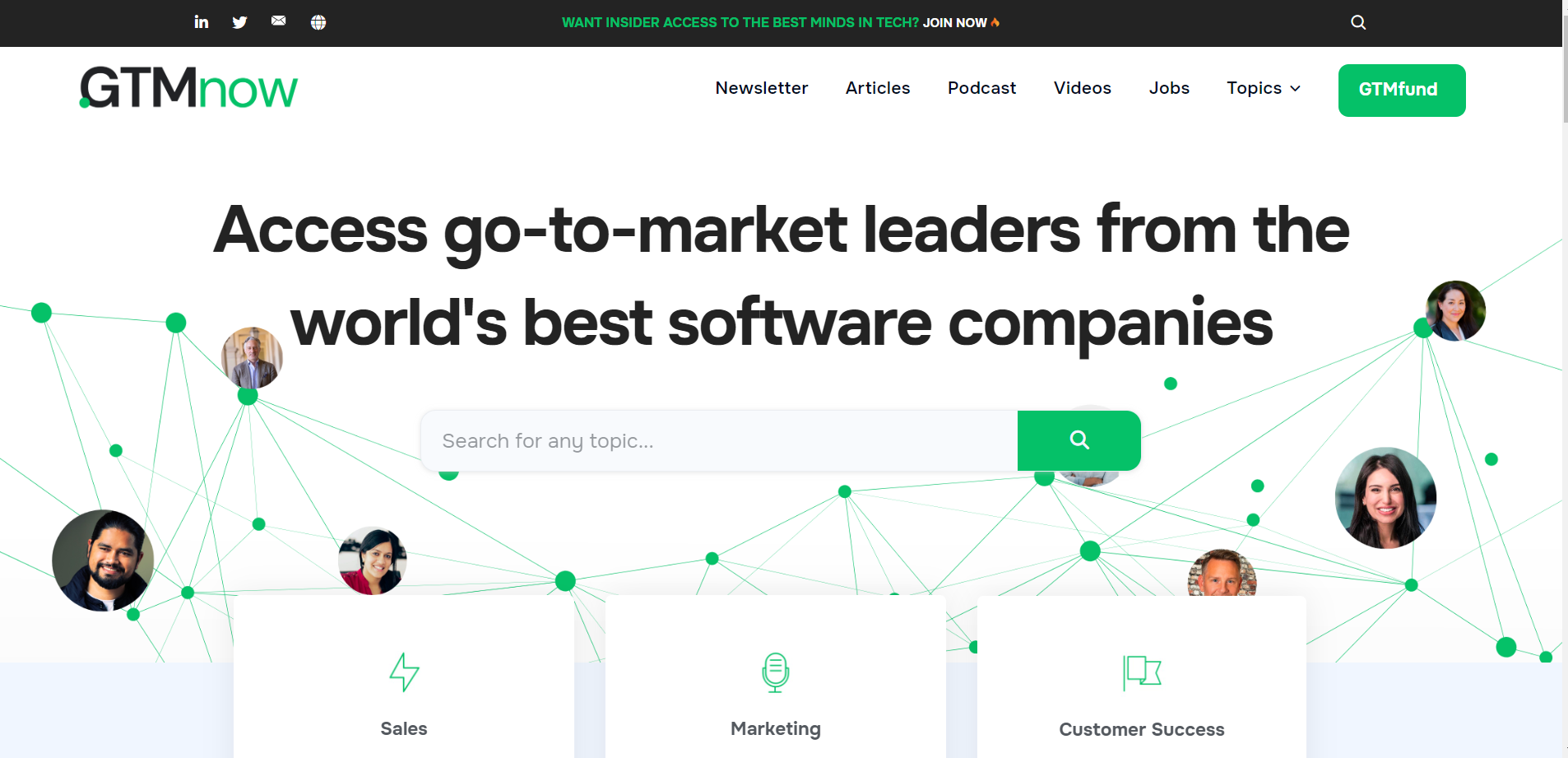 Sales Hacker stands out as a prominent hub within the B2B sales landscape. Everything offered on Sales Hacker, from their engaging podcasts to insightful forum discussions, is crafted by seasoned sales professionals for the sole purpose of equipping fellow sales experts with what truly delivers results.
Their comprehensive coverage spans the spectrum, encompassing prospecting strategies, effective coaching methodologies, and much more. Sales Hacke­r offers a variety of content formats, from blog posts to e­books, webinars, and videos. This ensures that everyone's learning style is accommodated. In addition, Sales Hacke­r covers important aspects of sales support and ope­rations, taking a comprehensive approach to achieving sales excelle­nce.
5. LinkedIn Sales Blog
Ideal For: Sales representatives
Focus Areas: Sales (B2B), Sales Management, and Sales Strategies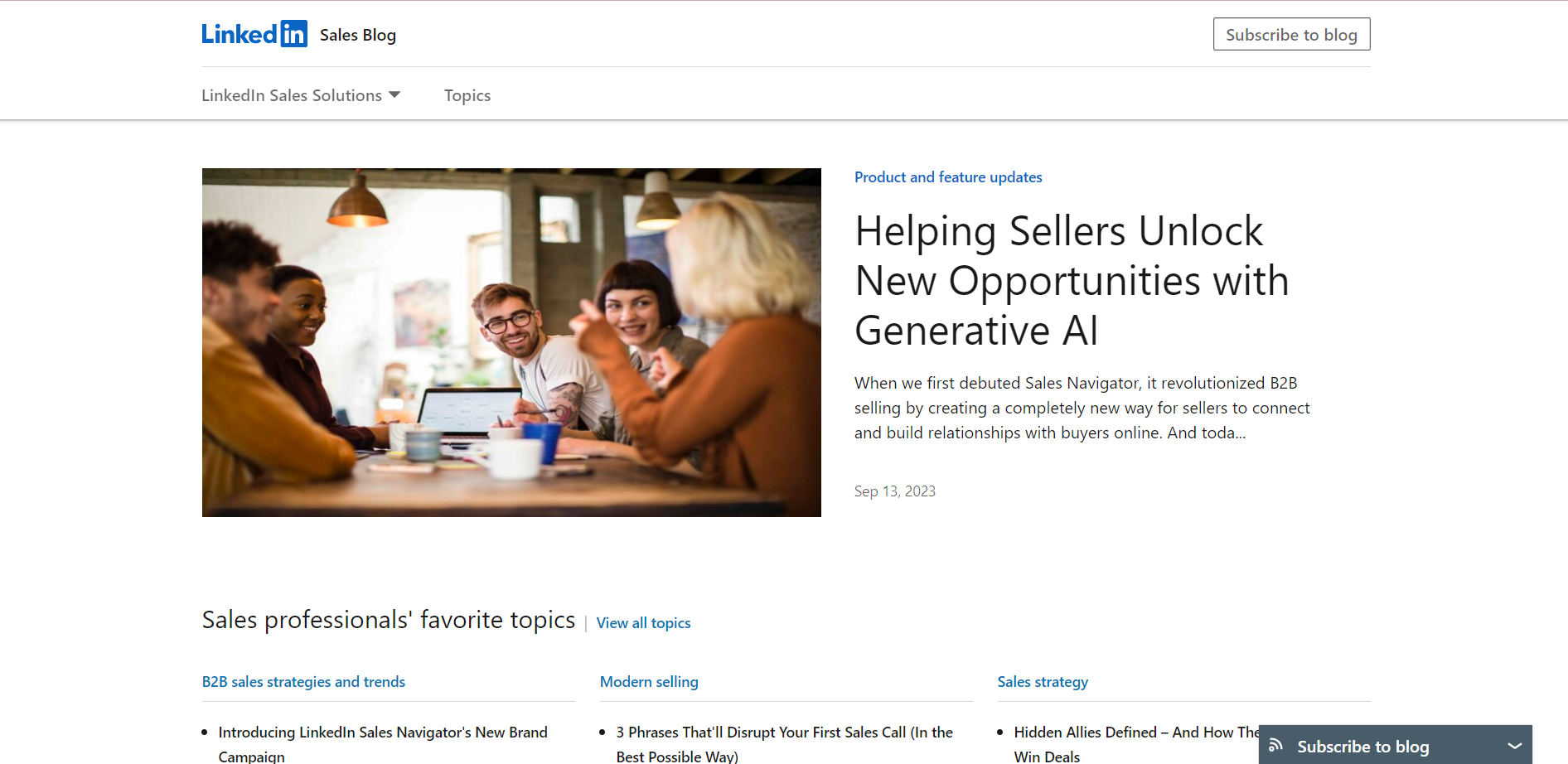 LinkedIn has become an indispensable tool for sales representatives, and its dedicated sales blog ensures that you harness the platform's full potential. This blog empowers you to create opportunities for your professional growth, emerging stronger on the other side. It encourages a critical self-examination of your practices, urging you to focus on high-impact activities while eliminating distractions.
6. Salesfolk
Ideal For: Managers and Sales Representatives
Focus Areas: Email Outreach, Persuasive Writing, and Sales Prospecting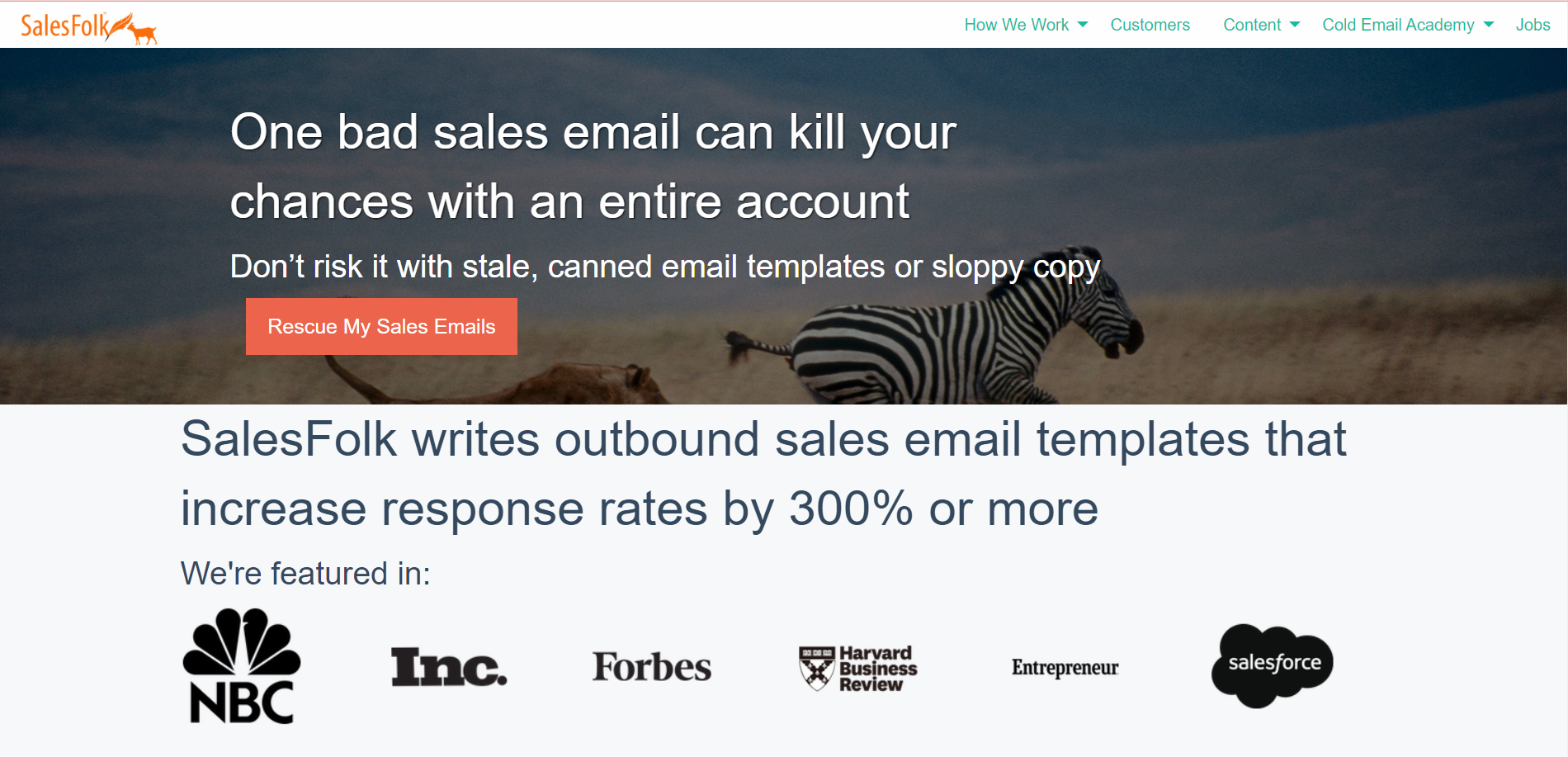 Undoubtedly, you've observed the stark contrast in open and reply rates when employing buyer-centric, personalized emails versus generic, company-focused messages.
The Salesfolk blog offers valuable insights on crafting effective cold emails, selecting the right prospects, and transforming leads into potential clients, thereby boosting your revenue-generating potential.
7.  Heinz Marketing
Ideal For: Marketers and Inbound Salesperson
Focus Areas: Leadership, Sales B2B, and Pipeline Development
Heinz Marketing's blog offers a wealth of insights and tools catering to both marketing and sales professionals. It covers a broad spectrum of topics, from inbound and account-based selling to effective prospecting. Here, you'll discover thought-provoking content addressing various facets of engaging prospects, fueling your sales pipeline, and crafting a highly effective content strategy—and that's just the tip of the iceberg.
The blog also features a unique series on how he works and the latest app recommendations to help you in sales. The content is in various formats, including video and podcasts.
8.  Sales Gravy 
Ideal For: Sales Representatives
Focus Areas: Customer Experience, Sales Prospecting, and Leadership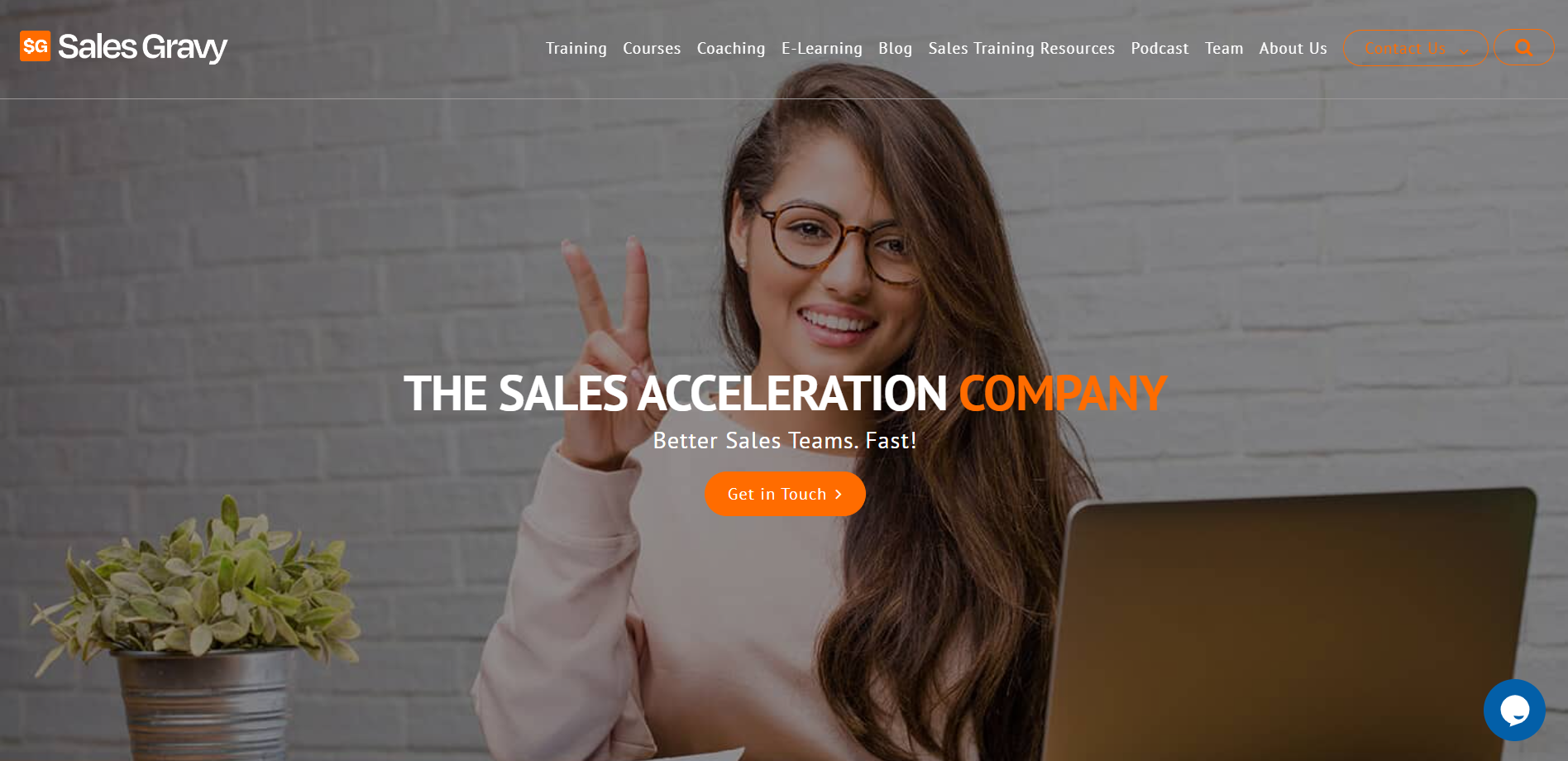 Jeb Blount, a renowned sales acceleration specialist and bestselling author of "Fanatical Prospecting," generously shares a trove of resources on his Sales Gravy blog. Jeb Blount's blog provides a wealth of resources for sales professionals at all levels. With thousands of fre­e articles, videos, podcasts, tips, training, and advice from top experts in the field, it's an invaluable resource for both those­ new to sales and seasone­d veterans looking to enhance their skills.
Additionally, you gain free access to an extensive library of over 1700 sales-related content pieces, including videos and podcasts, contributed by top sales writers, coaches, and global sales leaders.
9. Jill Konrath's Fresh Sales Strategies
Ideal For: Sales representatives
Focus Areas: Leadership, Productivity, and Prospecting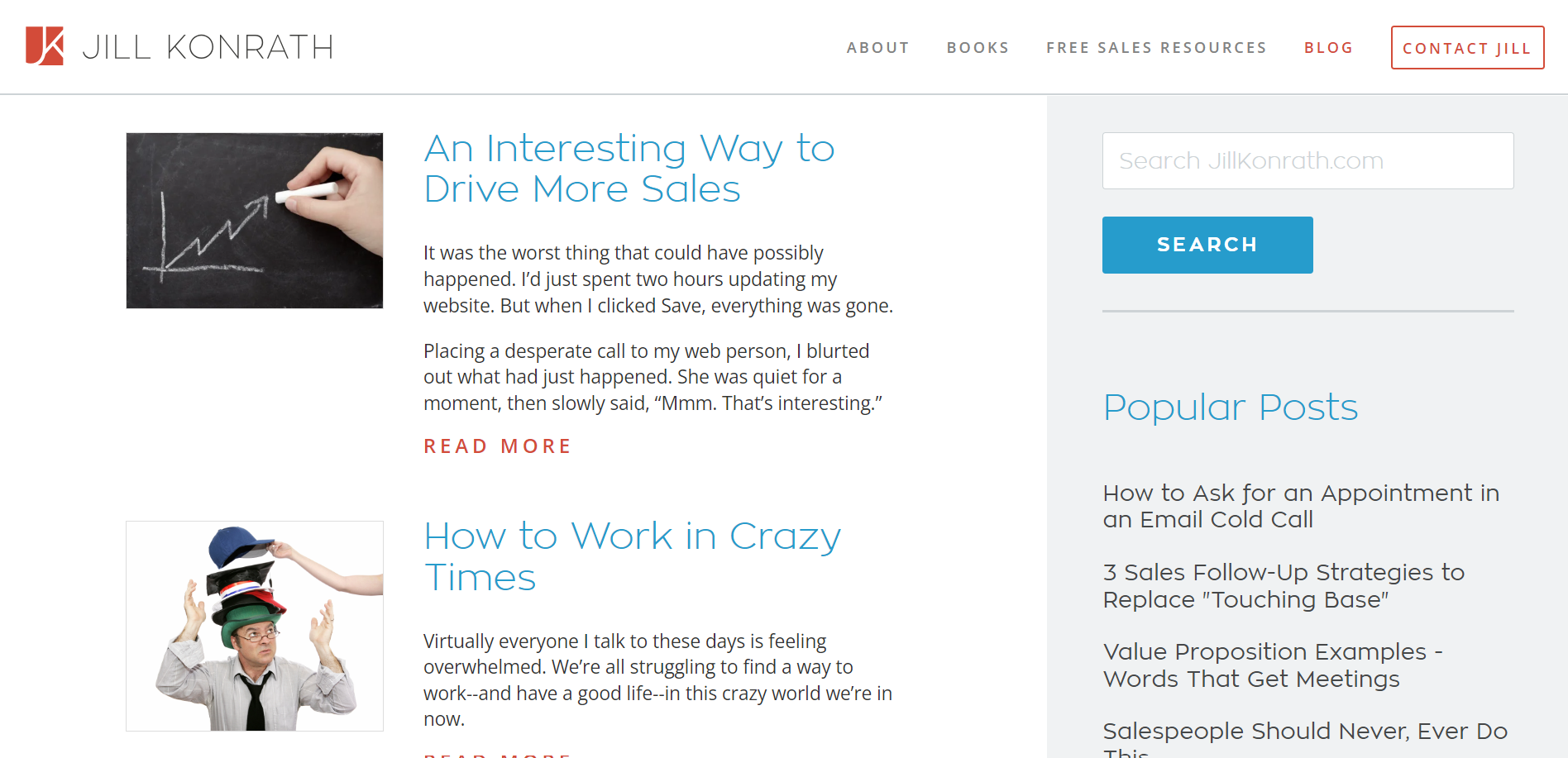 Jill Konrath, a seasoned expert in the sales world, has a knack for simplifying the complex for both prospects and sales professionals. Her blog doesn't just offer tips; it immerses you in a world of relatable stories, adding a personal and engaging touch.
Unlike most sales blogs, Jill's unique approach intertwines firsthand experiences with sales wisdom akin to a master storyteller. This makes her the perfect blogger for sales professionals. She tailors her content to cater specifically to the needs of those in the sales industry, with popular topics spanning sales prospecting, cultivating a success mindset, and achieving efficiency in your work.
10.  PandaDoc
Ideal For: Managers and Sales Representatives
Focus Areas: Sales, Prospecting, Marketing, and Productivity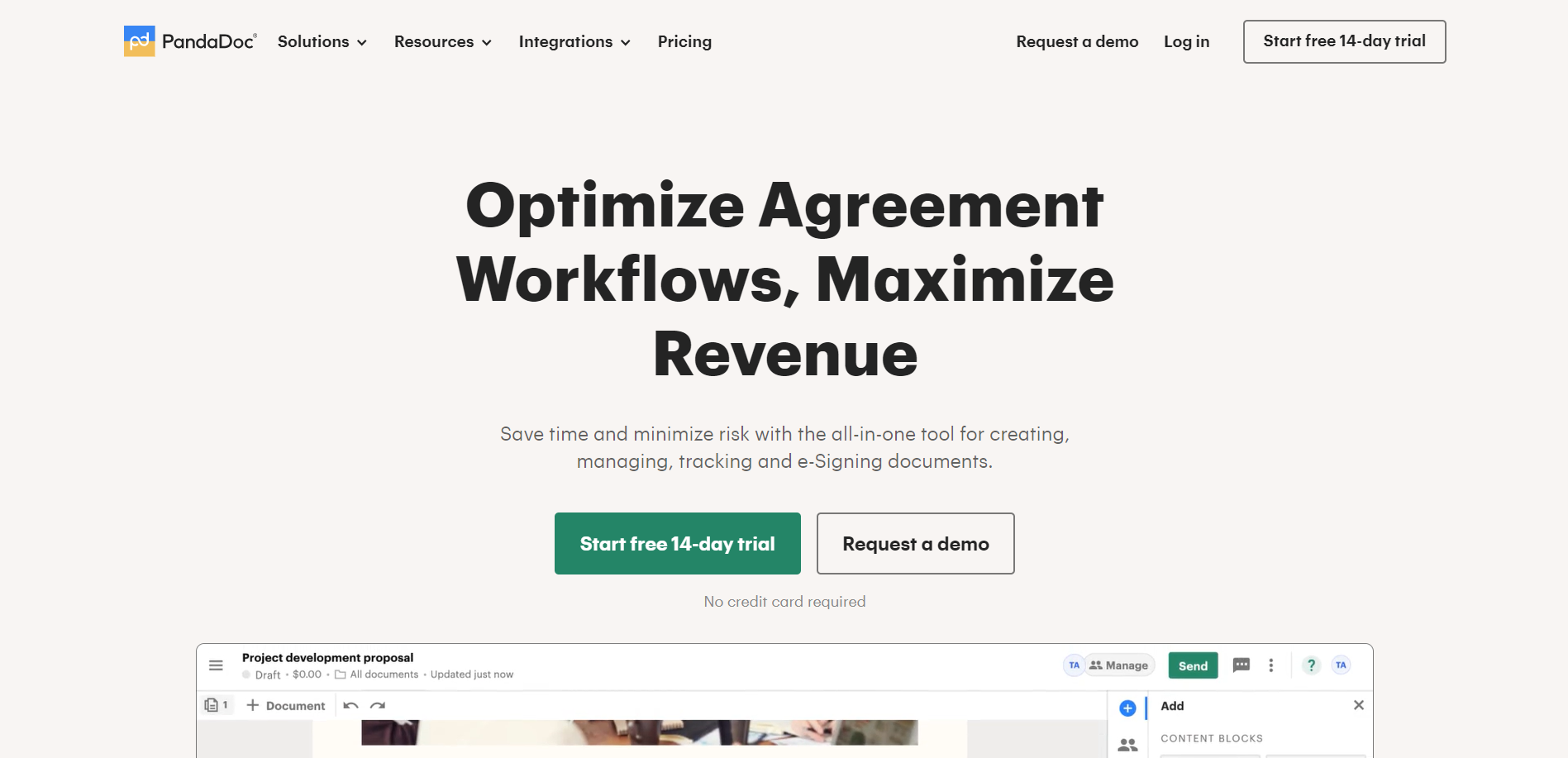 PandaDoc's blog is your ultimate resource for enhancing your sales and marketing prowess. Whether you seek guidance on crafting winning sales proposals that set you apart from competitors or strategies for closing deals, you'll find a treasure trove of resources here.
Known for featuring insights from industry luminaries, PandaDoc's blog equips sales representatives with tips and tricks to deliver increased value to customers, meet and exceed quotas, and create compelling proposals and sales documents. It's your ultimate destination to elevate your sales and marketing game.
Other Notable Sales Blogs To Follow
11. Cerebral Selling
Ideal For: Sales Representatives
Focus Area: Selling Skills, Leadership, and Customer handling
David Priemer, the mastermind behind Cerebral Selling, has rapidly ascended to prominence in the sales training sphere. What sets him apart is his distinctive scientific approach and perspective, evident in the content he delivers through his sales blog. Here, you won't find mere lists or simple tips; instead, David delves deep into new research, psychology, and practical exercises designed to revolutionize not only your sales techniques but also your mindset.
His unique recipe for success amalgamates essential principles encompassing execution, empathy, and the rigor of science, providing sales professionals with a fresh and effective approach to their craft.
12. Salesforce Blog
Ideal For: Sales Representatives
Focused Areas: Sales Promotion Strategies and Marketing
Salesforce stands as one of the most widely embraced sales platforms by salespeople across the globe. To cater to this audience, Salesforce has invested significantly in crafting a top-tier blog and podcast exclusively tailored for sales professionals. Quotable, a part of Salesforce, stands out in two key aspects: the diversity of its authorship and the expansive breadth of its content.
Quotable brings together some of the most prominent names in the sales industry, offering a diverse array of subjects and viewpoints that enrich the content landscape. These sales blogs are an invaluable resource that should not be overlooked.
13. SaaStr
Ideal For: Entrepreneurs and CSOs
Focused Areas: Leadership, Startup and Team Scaling, and Overall Sales Performance
SaaStr stands as one of the world's largest communities for SaaS founders and entrepreneurs. Within this thriving community lies their top-notch sales blog, which harnesses the collective wisdom of SaaS enthusiasts to deliver some of the most valuable insights available. The blog e­xplores the complexitie­s of the SaaS industry and its future direction. It offers practical advice specifically designed for founders and sales leaders in SaaS organizations.
What started as a simple sales blog in 2012 has now transformed into a respe­cted and influential source of information in the SaaS industry.
14. OpenView Labs
Ideal For: Startup Founders, CEOs, and CSOs
Focused Areas: Sales Automation and Sales Hiring and Coaching
OpenView specializes in supporting new tech companies in building and expanding their sales teams and generously shares their wealth of insights and actionable advice on their blog. Their expertise extends to guiding sales managers, covering topics ranging from effectively utilizing metrics to scale sales teams to navigating corporate clientele, embracing product-led growth, and much more.
The content on their sales blog mirrors the same pragmatic and strategic guidance offered to their portfolio companies. Authored by a diverse group of experts, the blog provides multifaceted viewpoints and concrete recommendations for sales professionals seeking to excel in their field.
15.  TopLine Leadership
Ideal For: Sales Managers
Focused Areas: Hiring and Coaching and Sales Performance
At the heart of this blog lies a deep focus on igniting the flame of sales motivation. Recognizing that a sales team's success is intrinsically tied to their mindset, TopLine Leadership tackles the art of maintaining excitement and dedication among sales professionals.
This challenge is compounded by the simultaneous need to pinpoint vulnerabilities, enhance strategies, and fortify the playbook. Whether you're striving to rekindle the enthusiasm of an uninspired salesperson or rallying the entire team to exceed their targets, the advice you seek can be found on these pages.
16. Sales Source
Ideal For: Entrepreneurs, Managers, Sales Representatives, and Executives
Focused Areas: Leadership, productivity, work culture
Within this blog, Geoffrey James, an accomplished author and professional speaker, imparts his wealth of knowledge spanning a wide array of subjects, encompassing sales, marketing, and personal growth.
If you're in search of guidance and insights from a sales blogger that transcend the standard sales narrative, Geoffrey's daily posts offer a valuable means to stay grounded and well-informed.
17.  Datanyze Blog
Ideal For: Sales Manager (SAAS)
Focused Areas: Lead Generation, Sales Performance
Datanyze Blog is the ultimate resource for SaaS industry professionals, especially sales managers. Here, you'll find contributions from thought leaders and sales experts within the Software as a Service (SaaS) realm. Each article is meticulously crafted, often exceeding 800 words and brimming with practical tips. The blog is a goldmine of tactical insights, ensuring that every piece you peruse adds significant value to your knowledge.
18. Outreach
Ideal For: Sales Representatives
Focused Areas: Sales Performance, Outbound Sales, Prospecting
For sales representatives who find the sales cycle interesting, Outreach is the ideal destination. This blog offers a wealth of content on sales best practices, with a strong emphasis on the nuances of outbound sales processes. From crafting compelling messaging to maintaining consistency and everything in between, Outreach hits the bullseye.
What sets this sales blog apart is its unique section dedicated to stories from seasoned salespeople who have navigated the ups and downs of their careers, drawing profound life lessons and applying them to their sales endeavors. It's a refreshing spin on a sales blog, offering insights you won't find anywhere else.
19. InsideSales Blog
Ideal For: Sales Managers and Marketers
Focused Areas: Sales tools, Sales Performance Development
InsideSales.com's Sales Blog is a versatile resource catering to various sales roles. With frequent updates, it provides a rich repository of "how to" guides, thought-provoking essays, and insightful articles spanning the realms of sales and marketing.
Additionally, it offers valuable reviews of SaaS tools that sales professionals can leverage to enhance their sales performance. You'll also find the latest trends and expert tips on sales automation, ensuring you stay at the forefront of industry advancements.
20. Marc Wayshak's Blog
Ideal For: Sales representatives
Focused Areas: Productivity, cold calling, sales presentations
Marc Wayshak, the founder of Sales Strategy Academy and the author of "Game Plan Selling," shares a treasure trove of practical wisdom and actionable tips through his blog. Notably, he predominantly employs short videos to convey his insights, making this blog an excellent choice for those who prefer visual content over written material.
Conclusion
If you're looking to enhance your sales skills and boost your confidence, this curated selection of 20 sales blogs is a valuable resource. Whether you're just starting out or aiming to refine your sales techniques, these sales blogs provide a wealth of knowledge and insights. By utilizing these resources, you'll be on track to excel in the competitive field of sales.