A Comprehensive Review of Clover Point of Sale
Clover is a widely recognized and highly favored POS system, especially popular among the hospitality and retail sectors. However, you may be wondering if it is the perfect solution for your unique requirements.
We understand that, as a merchant, making an informed decision is important to you. Therefore, we have created a detailed guide that covers all the necessary points for you to make the right choice. Our team did an in-depth of Clover Point of Sale, and you can read it below.
Background On Clover Point Of Sale System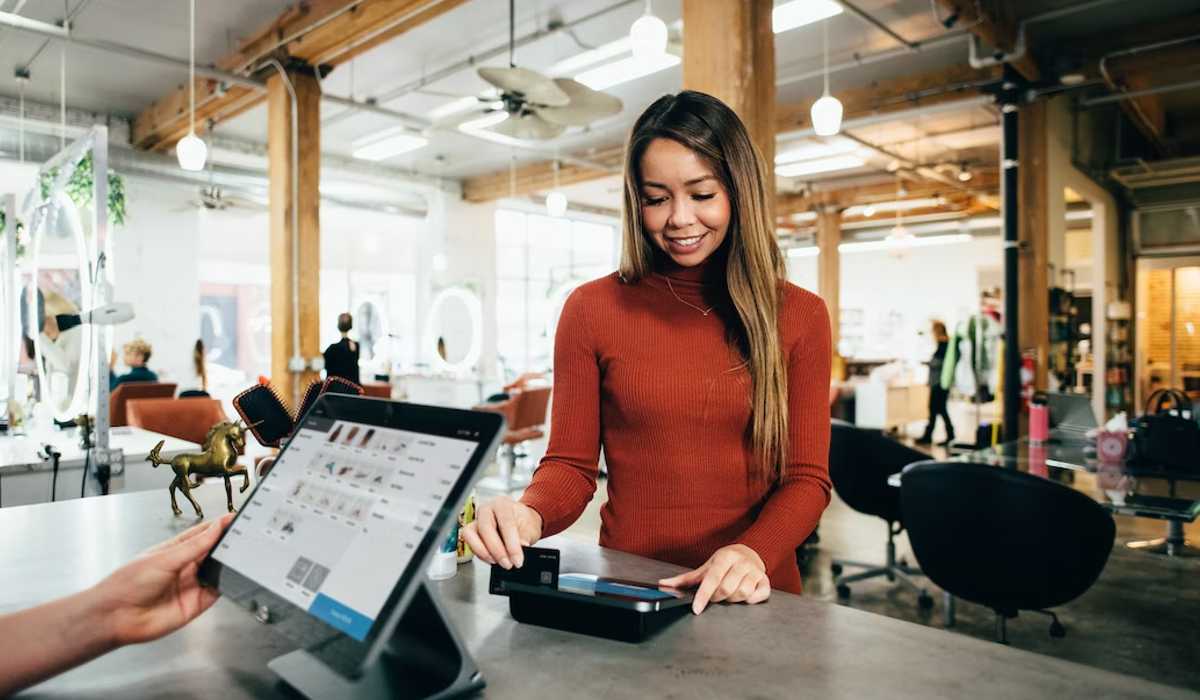 Clover stands out as an intuitive and user-friendly POS system specifically made to meet the needs of SMEs and organizations. Clover, in conjunction with various third-party vendors, offers an array of hardware bundles and components that are designed for merchants. Additionally, Clover provides card payment processing to streamline transactions.
Clover is a product by Finserv, which is a reputed and prominent player in the FinTech sector. While Fiserv handles payment processing on the backend, it's important to highlight that you retain the flexibility to select your preferred merchant service provider.
Clover's pricing structure is multifaceted, contingent upon several factors. This includes payment processing fees, which vary based on sales volume and payment method, as well as the specific monthly plan you opt for. Furthermore, your choice of hardware, aligned with your business type, plays a pivotal role in determining the overall cost.
With most plans, you have the flexibility to pay either in full or on a monthly basis. If you choose the upfront payment option, you have to pay a lump sum upfront to buy the hardware, which is accompanied by a monthly software fee. Conversely, the monthly payment alternative consolidates both hardware and software expenses into a single monthly payment. While you may not own the hardware outright initially, this approach provides you with the option to upgrade devices or make a hardware purchase at a later date.
Who Should Opt For Clover?
If you own a small restaurant, retail store, or a similar business with relatively uncomplicated POS requirements, Clover POS could be an excellent fit for your needs. Clover stands out as an attractive and user-friendly all-in-one POS system. It includes both the hardware and the software, along with essential merchant services.
This makes it an appealing choice for businesses seeking a comprehensive and straightforward POS solution. Furthermore, Clover ensures 24/7 customer support through phone, chat, and email, enhancing its accessibility and support system.
Pros

 

●      Clover offers competitive pricing structures that align with small businesses.

●      A 30-day free trial

●      Comes with a wide range of features

●      A good option for an online store

Cons

●      No free plan is offered. You have to buy a premium version.

●      The pricing structure is complicated and not so transparent.
Different Products Offered By Clover
Clover presents a diverse lineup of POS hardware products, each designed to facilitate secure payment processing for credit cards, accommodating chip, contactless payments, and magnetic stripe transactions. When considering Clover, you have five primary options at your disposal:
Clover Go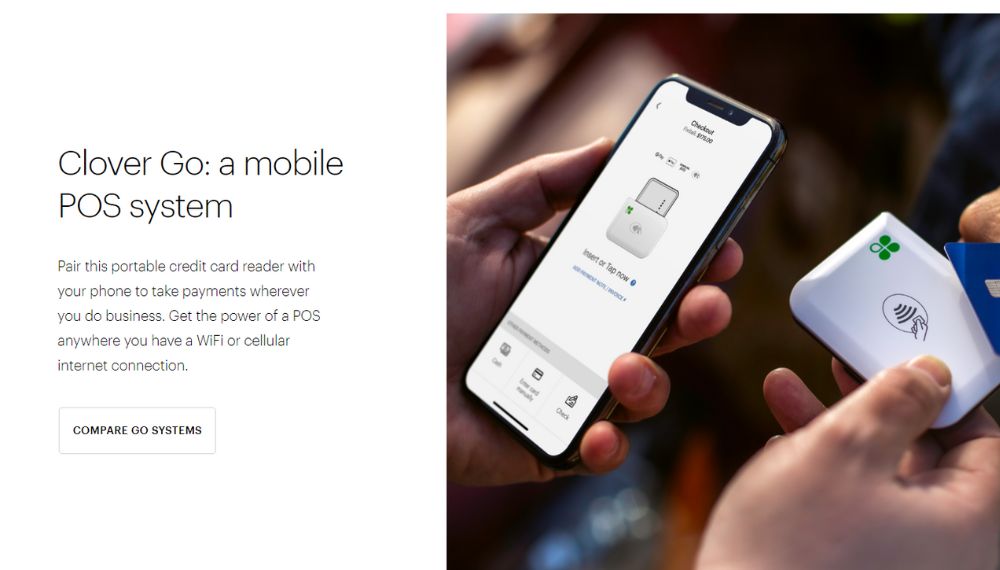 (4.0 Stars)
This system empowers merchants to accept card and contactless payments from virtually anywhere. This compact, square-shaped card reader seamlessly connects to iOS or Android devices via Bluetooth, facilitated by the Clover Go app.
To ensure connectivity, access to Wi-Fi or an LTE plan is essential. Although it may not offer the extensive array of business management features offered by Clover's other devices, Clover Go seamlessly syncs with your Clover web dashboard, enabling you to monitor sales, inventory, and employee activities.
Price – $99
Clover Flex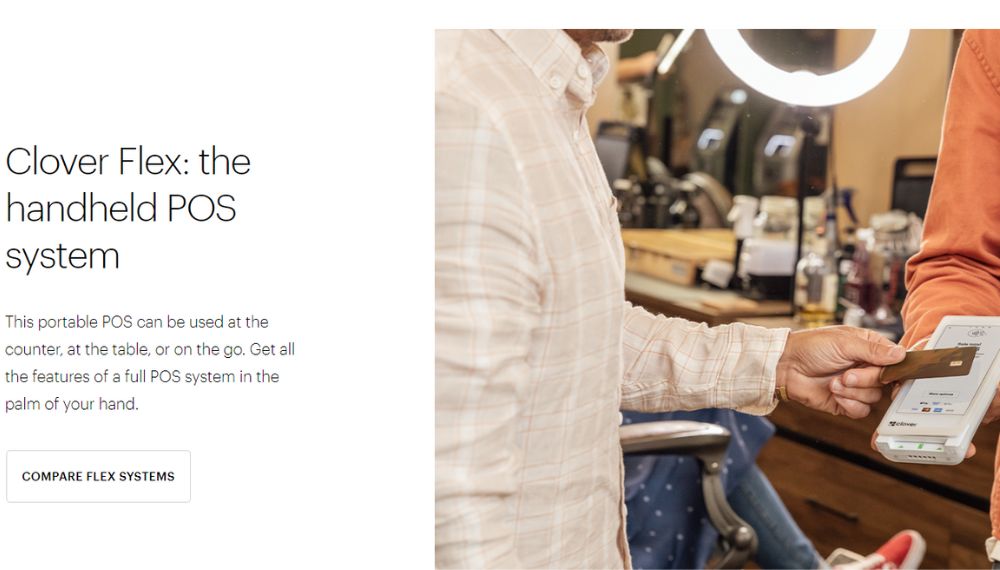 (3.9 Stars)
Among Clover's POS terminals, Flex stands out as one of the most compact and portable options. Resembling a handheld smartphone, it boasts a 5-inch screen, a card reader, and an integrated receipt printer. Clover asserts that Flex's battery can endure an entire day of operation.
It also offers the same customization capabilities found in larger Clover terminals. What's more, it integrates seamlessly with your account, allowing you to access sales data and various reports from any mobile device or computer, providing you with unparalleled flexibility and convenience.
Price – $499
Clover Mini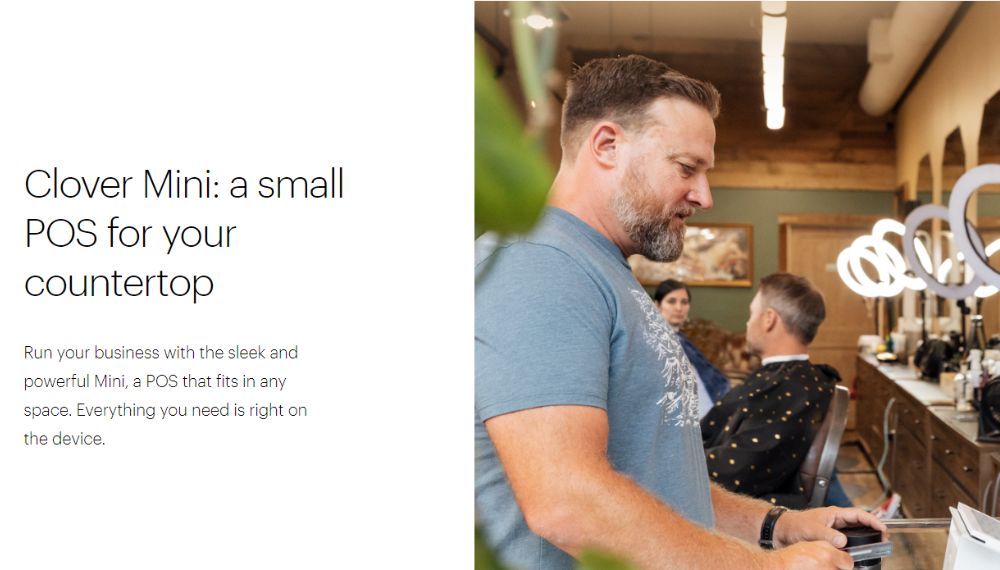 (4.0 Stars)
It may be small in size, but it packs a powerful punch with its seamless interface. This versatile device offers an array of advanced features, including robust inventory management, comprehensive reporting capabilities, efficient employee management tools, and a multitude of both front and "back-of-house functionalities.
With the ability to accept various payment types, Clover Mini is an excellent choice for a wide spectrum of businesses.
Price – $749
Station Solo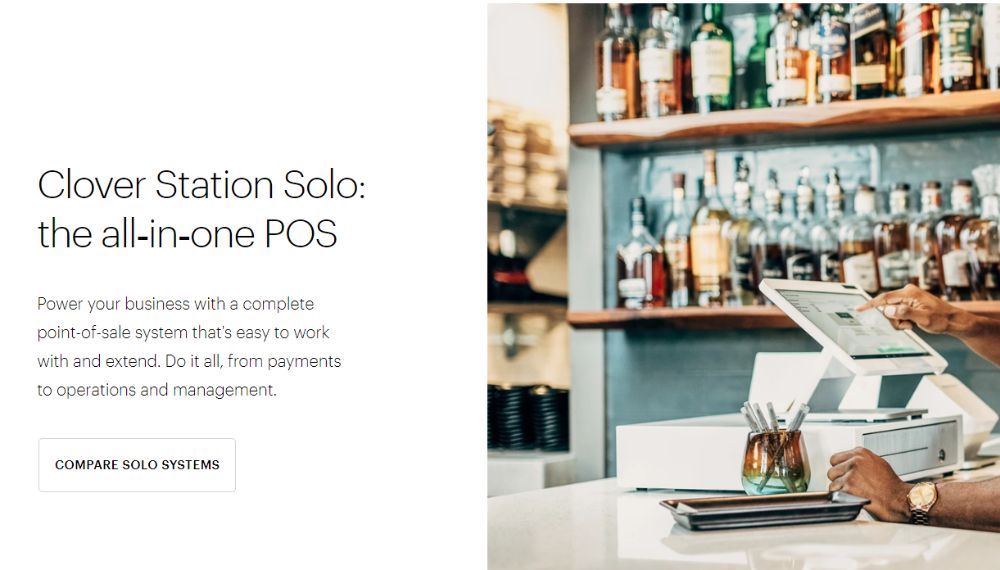 (4.0 Stars)
This system is suitable for big organizations, particularly multi-chain restaurants. This impressive device boasts a sizable 14-inch HD screen, a reliable receipt printer, and a convenient cash drawer.
Restaurant owners and small retailers can leverage its capabilities to create floor plans, streamline mobile order processing, and harness a range of back-end tools designed to enhance operational efficiency. The Station Solo is a comprehensive solution for businesses seeking advanced POS functionality.
Price – $1,349 – $1,399
Station Duo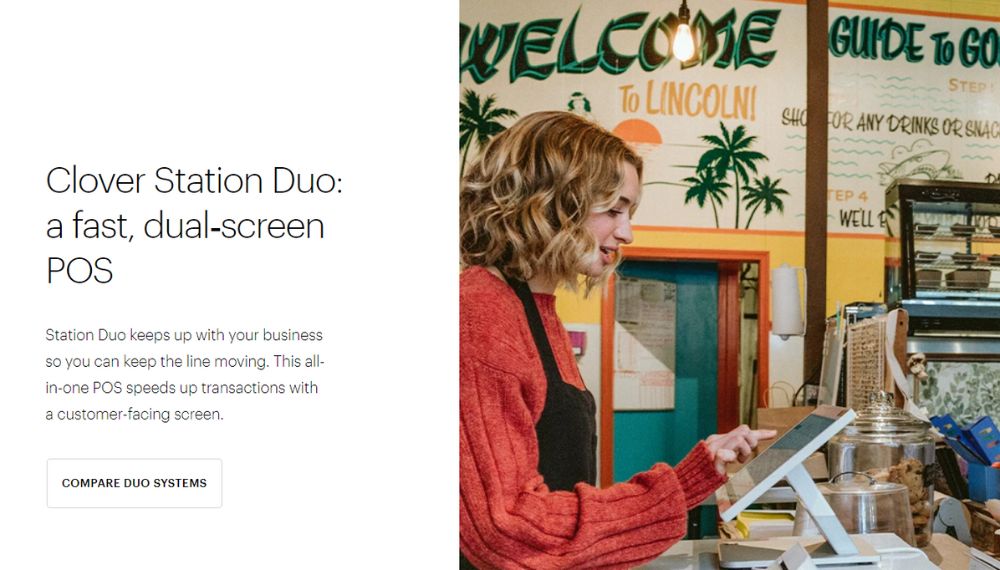 (3.9 Stars)
It also shares the same impressive features as the Station Solo but takes it a step further with the addition of a touchscreen facing the customer. This dual-screen solution features a 14″ HD screen on the merchant's side, complete with a built-in receipt printer and a cash drawer.
The Clover Station Duo seamlessly integrates with the Counter Service Restaurant or Register plan, catering to a wide range of in-store businesses.
Price – $1,649 
Pricing Structure Of Clover POS – A Comprehensive Breakdown
(3.8 Star)
Understanding the pricing structure could be a complicated road to trod, but we have simplified the whole structure by breaking it down into three parts.
Suppose you opt to purchase all the necessary Clover POS hardware upfront, based on your chosen software pricing plan (hardware pricing details are given in the "products" section). In that case, you will only need to pay a monthly fee for the usage of Clover POS software.
Here's an overview of Clover's software plans:
Plan
Charges
Payments
●      $0 (includes only payment processing)
Essentials
●      $14.95 per month for (anyone) Mini, Flex, or Go device.
Register
●      $49.95 per month for (anyone) Station or Mini device.

●      $64.90 per month for an additional Flex device.

Counter Service
●      $54.95 per month for (anyone) Station or Mini device.

●      $69.90 per month for an additional Flex device.

Table Service
●      $84.95 per month for (anyone) Station or Mini.

●      $99.90 per month for additional Station and Flex devices.

●      $114.85 per month for additional Station and Flex devices.
It's worth noting that the inclusion of additional devices to your plan results in an incremental increase in your total monthly software fee, at a rate of $14.95/month for each supplementary Clover device.
On the flip side, if you don't want to spend tons of money on POS hardware, there are monthly plans available to cater to your needs. It's important to note that you have to sign a term (usually, the term could last 36 months). Here's a breakdown of the monthly charges:
Business Types
Starter
Standard
Advanced
 

Retail Stores

(Essential Plan) $60 per month with Clover mini
(Register Plan) $135 per month with Station Duo
(Register Plan) $185 per month with Station Duo and Clover Flex
Personal Business Services
(Essential Plan) $50 per month with Clover Flex
(Register Plan) $95 per month with Clover Mini
(Register Plan) $135 per month with Station Duo
Professional Services
–
–
(Essential Plan) $50 per month with Clover Flex
Dining Businesses

(Quick Service)

(Counter Service Plan) $100 with Clover Mini
(Counter Service Plan) $140 per month with Station Duo
(Counter Service Plan) $190 per month with Station Duo and Clover Flex
Dining Businesses

(Full Service)

(Table Service Plan) $160 per month with Station Solo
(Table Service Plan) $210 per month with Station Solo and Clover Flex
(Table Service Plan) $310 per month with Station Solo, Station Duo, and Clover Flex
Now you understand the core pricing structure, but things do not end here; there may be additional costs associated with setting up the Clover systems. Here's a breakdown of some additional charges that may be applicable while setting up the Clover system:
| | |
| --- | --- |
| Type | Charges |
| Payment Processing Charges | 2.3% to 3.5% + an additional $0.10 (if you make payments with Clover) |
| Add-on Applications | $0 to $400 per month |
| Setup Fee for Debit Cards | $50 |
| Fee for Merchant Applications | $150 |
Features Of Clover POS Sytems
(4.5 Stars)
Inventory Management:
Clover provides a basic yet effective built-in inventory management system accessible through its web dashboard. This system has essential features like variants, item categorization, and modifiers. Additionally, you have the flexibility to choose which items you wish to conceal from specific sales channels. This feature automatically keeps track of your stock levels and promptly designates items that need restocking. This functionality applies not only to retail products but also to ingredients for menu items in restaurant management scenarios.
Restaurant Features:
Clover's software is well-equipped to cater to the needs of restaurants, offering tailored features for both quick and full-service restaurants. These specific features include QR scan ordering, floor planning, menu management, tab management, seamless order activation, easy integration with other delivery services, online ordering for both delivery and pickup, and the ability to apply discounts at both the item levels and orders.
EBT Acceptance:
Clover extends its functionality with an EBT app, enabling businesses to accept EBT payments. It's important to note that EBT payments can only be processed through the Clover Mini, as it is the sole device capable of handling PIN-based transactions.
Reporting and Analytics:
Gain valuable insights into your business's profitability through Clover's robust reporting and analytics tools. Access real-time sales data, monitor total sales per employee, and generate comprehensive reports. With ease, you can filter data to pinpoint crucial information about your top-selling items and monthly sales trends.
Using The Clover PSO System
Clover POS boasts an intuitively designed interface that prioritizes user-friendliness. Its layout is not only visually appealing but also thoughtfully organized, ensuring that users can effortlessly access desired features. This familiar and well-structured design facilitates a quick learning curve for employees, sparing them from being overwhelmed by an excess of buttons or complicated navigation. Furthermore, the backend is easily accessible and neatly arranged.
Setting up the system is a breeze, and training new employees is a swift process, thanks to the system's user-friendly design. In just a matter of minutes, anyone can have their Clover POS up and running smoothly, making it an efficient choice for businesses of all sizes.
After Sales Service And Support From Clover
(3.9 Stars)
Support for your entire POS setup is derived from three distinct sources: your chosen merchant services provider, Clover's dedicated assistance, and any third-party app developers associated with the apps you've installed from the App Market.
Clover's customer support primarily focuses on addressing hardware and software-related issues, offering telephone support to respond to customer inquiries promptly. Additionally, Clover provides a valuable FAQ section and a repository of small business resources. Within this resource hub, customers can access informative content, including in-depth articles, to gain insights and resolve queries effectively. One Minus point in customer support is that they do not provide live chat.
Conclusion
(4 Stars Overall)
The Clover POS presents a compelling option for SMEs looking for a comprehensive and seamless POS solution. The system's strengths lie in its inventory management capabilities, specialized features for restaurants, and EBT payment acceptance. The intuitive interface and ease of setup make it accessible to businesses of all sizes.
However, the absence of a free plan and the intricacies of the pricing structure may pose challenges for some users. Nonetheless, Clover's customer support resources and 30-day free trial provide valuable assistance and an opportunity to test the system.
Frequently Asked Questions
Q: Is there a Clover mobile app available?
Yes, Clover offers the Clover Go mobile application. This app can function independently as a POS system or in conjunction with the Clover Go card reader. It is compatible with both Android and iOS devices, including iPads.
Q: How do customers generally rate Clover POS in reviews?
Reviews for Clover POS are a mix of both positive and negative.
Positive feedback typically focuses on the ease of system setup, while negative reviews often mention challenges with customer service, limited transparency from Clover and merchant service providers, and increasing costs.
Q: What security measures does Clover have in place?
All Clover devices hold the PTS certification. They comply with the PCI DSS and include features such as tamper detection, access authorization, and data encryption.
Q: How long does it take for Clover to process payments and deposit them?
Normally, Clover takes one to three business days to credit payments to your account. However, you have the option to expedite fund transfer for an additional 1% fee.